東北被災地ボランティア Volunteer for Tohoku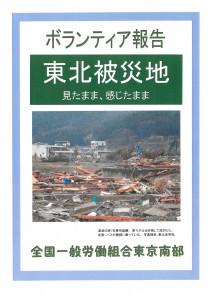 東北被災地支援ボランティアを続けています。

全国一般なんぶは組合員がボランティアとして、がれき撤去作業や泥出しなどの作業に参加しました。
遠野ボランティアセンターを拠点に、私たちの所属する全国一般全国協議会の「共生ユニオンいわて」が手配する被災地でのボランティア活動に参加しました。
組合員のボランティア報告は冊子「東北-被災地-見たまま感じたまま」にまとめました。
We have continued for volunteers to assist people in Tohoku.
The National Union of General Workers, Tokyo South Chapter (Nambu) has been actively participating in the task of removing debris and mud from stricken areas.Our sister union in Iwate set up to help us make arrangements for volunteers through The Tono Volunteer Center.
We reported about the volunteer activities on a leaflet.